digital / estampe numérique
Tirages Fine-Art sur papier d'art
Format papier / Paper sheet format : 30×30 cm / 11.8×11.8 inches
Format image / Image format : 26×26 cm / 10.2×10.2 inches
Marges / Margins : 2 cm / 0.79 inches.
Exemple de tirage avec Sport #1 (30 exemplaires) / Print example with Sport #1 (30 ex.).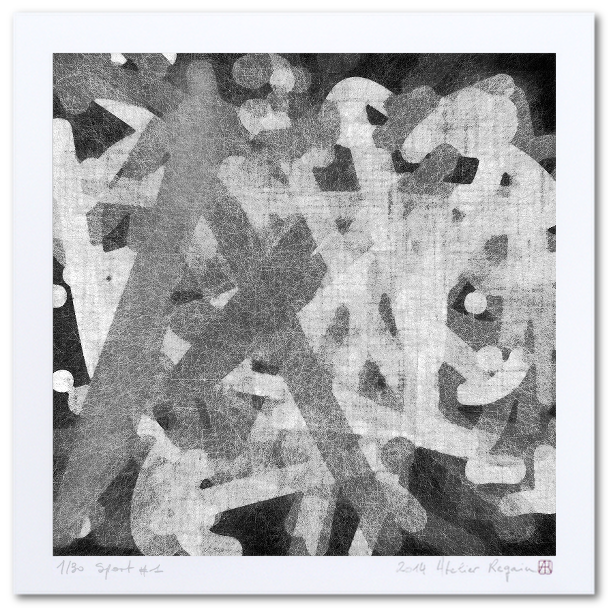 Tirage Fine-Art
Toutes les créations sont imprimées sur du papier d'art 100% coton (Hahnemühle Photo Rag ® 308g sauf indication contraire) avec des encres pigmentaires. La qualité de ces matériaux confèrent à ces tirages une longue durée de vie.
Avertissement : Il peut y avoir de légères différences de teintes, de luminosité et de contraste entre un tirage sur papier et la visualisation sur un écran d'ordinateur du fait des réglages de ce dernier.

All these pictures are printed on 100% cotton art paper (Hahnemühle Photo Rag ® 308g unless otherwise indicated) with pigmented inks. The quality of these materials give these prints a long service life.
Warning: There may be slight differences in color, brightness and contrast between print and display on a computer screen because of the settings of the device.

Edition limitée et numérotée
Chaque tirage est numéroté (numéro d'ordre/nombre de tirages de la série).
Cachet de l'Atelier Regain à l'encre de Chine.
Each print is numbered (serial number/number of prints in the series).
Indian ink seal of the Atelier Regain.